In Star Trek Online neem je als speler een andere identiteit aan, je maakt een 'character' waarmee je het spel speelt. Van de avonturen die je met dat personage beleeft kun je natuurlijk een verhaal schrijven en dat op een 'blog' plaatsen. Ziedaar het idee van de 'In Character' blog. Als eerste stellen we je voor aan een Trill officier die op het punt staat aan een nieuwe gastheer gekoppeld te worden. In het Engels!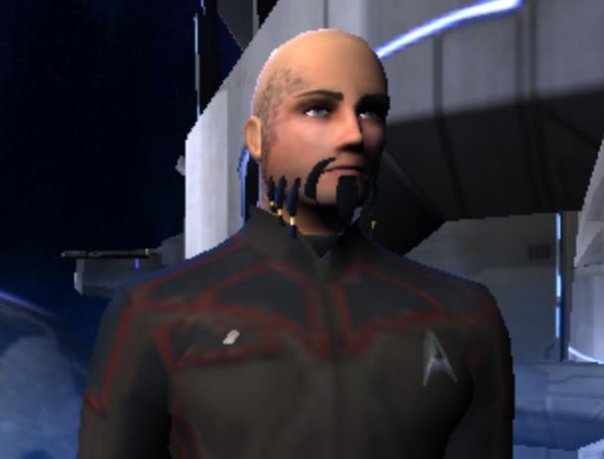 Marja's Dying...
The twilight comes and the stars shine in the window. I am watching the beauty of my home world, maybe for the last time. This is because for the fourth time in my life. I am dying.
My name is Xox and I am a Trill symbiont. Currently I am named Marjan, an astrophysicist with a long career in the Federation Science Council. In this long life, I served on many human bases and ships. I was on Earth when the Dominion attacked Star Fleet Headquarters. I saw the formation of the first female governess on Ferenginar. I witnessed the battle of the Nemesis on the U.S.S. Enterprise and the death of the first Data android.
For these many long years since I have worked at the New Starfleet Headquarters. As you can imagine we have had to remap our local Alpha and Beta Quadrants and there was lots of work. Another thing I can include in my life was a wonderful husband and family. My husband wasted away several years ago and my children have made lives of their own, but I am proud of each and everyone.
As I die, my memories will live on to be given to another candidate from the Symbiosis Committee. I was asked to evaluate four candidates for the process. I met with each one and we all seemed to get along. But one young Ensign seemed the most interesting. His name is Menzo and he is a specialist in combat.
Menzo holds a 5th grade in the order of Shok Pa, a rare martial art system from the Nowad sector. He also has the most handsome smile. He believes in the use of force only after failed diplomacy and he is great communicator. Of all my hosts I think I have met my first candidate for a Star Fleet captain. I hope that I will give him all the strength and guidance Marjan got when we first joined all thou long years ago.
The pain begins again. My heart and my lungs are giving out. Today I will die and be reborn in him. He will be my future and I hope to give him my knowledge and more my compassion. The nurses come to take me away to the garden. I wish to see the sun set one last time as Marjan. The sky darkens and the sun flies down behind the purple mountains and a single sparrow flies across it all. On our world itís called a Boxxa, a Messenger of Fate. I like that name.
Music of the crystals plays in the room as the procedure begins. I look to see Menzo and his ornate beard and bald head stare back at me with a soft smile and a thank you. My symbiont leaves me, and I die.
Silence and then the choir of voices begins. What were four are now five, a baritone singing a deep song. We merge and slowly become one. Images of his life become part of mine the feeling of physical combat, the eye of a marksman and the thrill of winning in combat. But also, the tempered readiness for love and compassion. I truly feel the beginning of the traits from my other hosts whirling within us and finding a place to belong. The teacher, the soldier, the pilot and the scientist, mixing together to make me.
After a hard nightís sleep I awaken and walk to window to see a sunrise for the first time with these new eyes. At the window sill sat the Boxxa. It had perched there all night. The first light of the sun blazed through the morning dew and the Boxxa took flight. This life will have meaning.
(Written by LaserRangr)